« Obituaries | Leland S. Anderson III
Leland S. Anderson III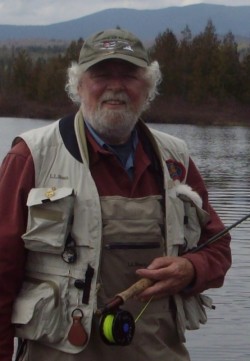 Date of Death: March 4, 2021
Date of Birth: February 13, 1948
Biography:
Leland S. Anderson III of Summer Street, Freeport, Me., son of Leland S. Anderson Jr. and Marjorie Westcott Anderson of Yarmouth, passed away Thursday, March 4th with his loving wife Jan at his side. Leland was the oldest of nine children.
Leland is survived by wife Jan Desmarais and his two sons Lee IV of Gray, Ian Michael of Falmouth.
He is also survived by three sisters, Jeanne Wright and her husband Brian of Poland, Peggy McKeone and her husband Robert (Mac) of Flowery Branch, GA., and Rosemary (Posy) Gillespie and her husband Kevin of Casco and five brothers, Clifford and his wife Dorothy of Poland, Glenn and is wife Vicki Lyn of Lyman, Joel and his partner Ann Gagne of Poland, Jamie and his wife Kathi of Raymond and Matthew and his wife Whitney of Freeport, 27 nieces and nephews and numerous cousins.  He will be missed by his dearest friends Bob Levi, Dennis Coyne, John Marcigliano and cousins Michael Westcott and Peter Reynolds.
The family will hold a private memorial service this spring.  Donations can be made in Leland's memory to Range Ponds Association, PO Box 451, Poland Spring Maine 04272.
As a young boy, Leland and his extended family resided in Yarmouth for 10 years in the shadow of his grandparent's business, Andy's Handy Store on Main Street. In 1957 the family moved to New Gloucester. 
Leland attended Gray-New Gloucester Highschool, and following graduation in June 1966, enlisted in the US Navy, and headed to Chicago for basic training in August.
GMGSN Leland S. Anderson III served his country on a 6-year enlistment with 4 years of active duty from 1966-1970.  After graduating Gunner's Mate Guns A School, he was assigned to USS Willis A. Lee, a Mitscher-class Destroyer Leader from 1966-1968 and was transferred to USS Newport News from 1968 -1970. His ship was ordered to Viet Nam in 1968-1969 where on the gun-line he participated in more than 40 assaults.
The ship was awarded the "Top Gun" award for support of the allied forces during the 1969 deployment. It was also awarded the Navy Meritorious Unit Commendation for performance during operations against hostile enemy forces during the ship's second deployment to Vietnam during 1968 and 1969. 
Aboard Newport News he was assigned to the Main Battery -2nd. Division.  His duty assignment and General Quarters Station was Turret 2 in which his billet was Right Gun Captain of an 8" 55 Caliber Rapid Fire Gun.   He received an Honorable Discharge in 1970.  
Leland was known as "Andy" in the Navy and became friends with shipmate Robert (Bob) Levi.  Bob and Leland remained best of friends these past 54 years up until the day of his passing.  
In 1963 Leland helped his parents build a cottage on Upper Range Pond in Poland.  He and his family spent many summers enjoying the lake and this is where he first met his wife Jan.
Leland was an avid fisherman from a very early age and continued the love of this sport through is entire life, taking up fly fishing in his 40s.  He passed on the art of fly fishing to his sons Lee and Ian and his wife Jan, they spent many wonderful days fishing in all over Maine. Leland's enthusiasm for fly fishing also inspired his brothers and brother-in-law to pursue the sport.
Leland taught himself to build fly rods and tie flies and shared these delicate creations with his family and friends reveling in the trout and salmon caught with his hand-tied flies.
In 1987 Leland, his father, brothers, and brother-in-law began a tradition of an annual fishing and camping trip which has been celebrated every year since and now includes cousins and close friends.  This memorable fishing trip is called "COTY" for Camper of the Year; a family competition which celebrates first fish, most fish and largest fish caught as well as who puts forth the most effort to 'WOW' the other participants.  Leland was awarded COTY in 1993, 1994, 2006 and 2011.
Leland also loved to cook and prepare extravagant meals for those he loved.  The meal was not about eating, it was about the entire experience from preparing, cooking and the presentation.  This was not just limited to the kitchen.  He often would prepare Steak au Poivre over a campfire on some of his many fishing trips.
After the Navy, Leland was employed by Arnold Diamond for many years managing projects from Maine to Connecticut to Seattle, WA.  He then went to work for the US Government as a civilian contractor overseeing construction projects on US Navy bases in Guantanamo Bay, Cuba, and Reykjavik, Iceland.  His last assignment was at Brunswick Naval Air Station and he retired in 2008.
Leland enriched the lives of anyone who got to know him.  He loved to laugh and greeted his friends and family with his signature hug and a kiss on the cheek. Although his passing will leave a hole in the lives of so many, his memory remains a constant with all of us.
A poem by the Makah Indians of the Northwest:
Do not stand at my grave and weep,
I am not there – I do not sleep:
I am a thousand winds that blow;
I am the diamond glint on snow;
I am the sunlight on ripened grain;
I am the gently cleansing autumn rain.
When you wake in the morning hush,
I am the swift uplifting rush
Of quiet birds in circling flight,
I am the soft starlight at night.
Do not stand at my grave and weep,
I am not there – I do not sleep!
Tight Lines, Fair Winds and Following Seas to you my Brother….