« Obituaries | Rudolph Jacob Bartos
Rudolph Jacob Bartos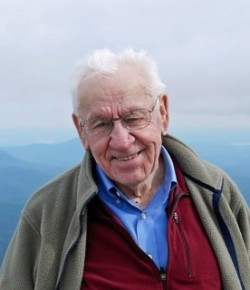 Date of Death: February 19, 2019
Date of Birth: June 6, 1921
Biography:
BRUNSWICK - Rudolph Jacob Bartos (Rudy) peacefully passed away on February 19, 2019 at his home in Brunswick, Maine. He was 97 years old.
He was born at home June 6, 1921 in Searights, Pennsylvania, the youngest of seven children. His parents, Michael and Maria Bartos, were immigrants from Letanovce, Czechoslovakia who settled in southwestern Pennsylvania in 1908.
Rudy graduated from Uniontown High School in 1941, the only one of his siblings fortunate enough to complete high school.
When Rudy was 21 years old, he enlisted to serve his country during World War II. He was part of the U.S. Army Air Corps with the 323rd Bombardment Squadron, 91st Bombardment Group flying in B-17s as a waist-gunner based in Bassingbourn, England. His final year in the army was served as an infantry man in France and Germany. His time overseas provided him a lifetime of stories, chronicling his adventures in Europe during the war.
Rudy lived most of his life in Uniontown, Pennsylvania. He was a member of the Uniontown police department and longtime employee at Frank's Auto Supermarket.
Rudy was an avid hunter, fisherman, woodworker and reader. He loved his family, upland hunting dogs, the outdoors, creating things with his hands and (it cannot go without mention)—his Budweiser. He was a lifelong storyteller and inspiration to every life that he touched. He had a warm and welcoming presence and matter-of-fact wisdom that brought great comfort to his family and friends.
He was predeceased by his wife of 60 years, Leona Misinay Bartos, one sister and five brothers. He is survived by his two daughters: Bonnie Bartos Waybright (husband Edward) of New Gloucester, Maine and Stephanie Bartos Graves (husband George) of Bala Cynwyd, Pennsylvania as well as his three granddaughters: Sarah Waybright Barr (husband Aaron) of Bend, Oregon; Amanda Graves Lange (husband Jeff) of West Chester, Pennsylvania; and Alexandra Graves (husband Evan Velleman) of Baltimore, Maryland. He also is survived by his six great-grandchildren: Rudy Barr, Violet Barr, Georgia Lange, Alistair Lange, Elias Velleman and James Velleman as well as many nieces and nephews.
A memorial and burial will be held on July 27, 2019 in Uniontown. Since Rudy was such an avid reader and supporter of the public library, memorial contributions in his name can be made to the Uniontown Public Library or to a public library of choice.