« Obituaries | Ernest T. Bouffard
Ernest T. Bouffard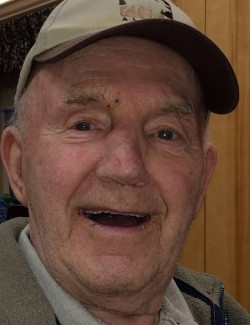 Date of Death: December 9, 2013
Date of Birth: September 9, 1924
Biography:
Augusta – Ernest T Bouffard age 89  resident at the Maine Veterans Homes died after a short illness on Monday December 9, 2013. He was born in Lewiston Maine on September 9, 1924, son of Joseph and Emerentienne (Plante) Bouffard.
Ernest Served honorably in the US Army having been stationed in Pearl Harbor. Ernest attended local schools. He retired from St. Andrews Parish as the Sexton.  He was an accomplished carpenter building and remodeling all his life.  He also operated a farm for many years.
Ernest was a member of St Michael Parish at St. Augustine Catholic Church.  He was a life member of the Calumet Club, an Honorary member of the Cushnoc Senior Citizens, The Sacred Heart League, VFW post in Augusta and was a 4th degree Knight of Columbus.
Ernest will be missed by all who knew him. He was a model father with great family values.  He taught his children how to be independent and not to be afraid to go after their dreams.  He unselfishly gave up his own dreams to make sure he provided for his family.  He did not have a lot in monetary value but his family was blessed to have him as their dad.  He always put his family first.   He will be sadly missed by all and his smile will  never be forgotten.
He enjoyed playing cards with Flo and Larry and with the staff at the Me Veterans Home, He loved spending time with his family and grandchildren and was very proud of their accomplishments.  He loved to make people laugh and was often joking with everyone. He loved the lake, swimming, boating and fishing.
Ernest is predeceased by his first wife of 48 years and mother to his children, Bernice T (Robichaud) Bouffard who passed away July 12, 1997, three brothers Jerry Bouffard, Joseph Bouffard and Norman Bouffard and one sister, Paulette Schmitz.
Surviving are his wife, Noella Barker, 3 sons Ronald Bouffard and his wife Lisa of Wales, Reggie and his wife Paula of Auburn, Bobby and his wife Mayette of Biddeford, 2 daughters, Patsy Gosselin and her husband Norman of Readfield and Debra Lacroix and her partner Jason of Litchfield.
4 Grandchildren, Norman and his wife, Jackie of Winthrop, Kelsey Bouffard, Kyle Bouffard and Jessie Villareal and her husband Danny.
He leaves 3 step children, and step grandchildren, several nieces and nephews.
At his request there will be no visitation.
Friends and family may attend a committal service with military honors on Monday December 16 at 12:00 in the chapel at the Maine Veteran's Memorial Cemetery located at 163 Mt. Vernon Avenue, Augusta, Me
In lieu of flowers memorial donations may be made to: Maine Veteran's Homes, Residential Care unit, Activities Director, 310 Cony road, Augusta, Me 04330
The family would like to thank the entire staff in the Residential Care unit at the Maine Veteran's Homes for their heartfelt compassion given to Ernest during his stay there in particular, Maria and Tina.