« Obituaries | Martin James Boyd
Martin James Boyd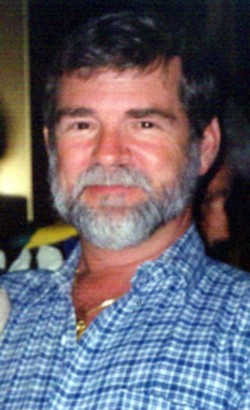 Date of Death: June 17, 2011
Date of Birth: September 8, 1946
Biography:
MECHANIC FALLS — Life is a journey and Marty's ended June 17, at his home where he loved to be with his wife, Cindy, at his side.
Marty was born Sept. 8, 1946 in New Eagle, Pa., to Cecil Boyd and Erma Wilt Boyd. He graduated from Rostraves High School in 1965, and joined the U.S. Navy. The Navy brought him to Maine, and on June 18, 1969, he met Cindy Carroll, his future wife.
Marty loved life and found joy and laughter everywhere. He especially loved to dance, play cribbage, work on projects with his son, Shawn, attend the grandkids' games and school functions, play with his Great Dane, "Bubba," travel with Cindy and friends, and just have a good time. He really loved being a "grandpa."
Marty had a twinkle in his eye when he found humor in something, or was up to no good and that twinkle was always there.
Marty leaves his wife of 40 years, Cindy Boyd; a sons, Shawn Boyd, whom he was very proud of; Shawn's wife, Missi, the daughter Marty never had; his grandchildren, Danielle Dubois, Jacob Boyd, Zachary Boyd; adopted grandchildren, Alexis Hill, Jasmine Hill, Caden Thompson, Haylee Harris, and their mom, April Hill; a brother, Cecil Boyd Jr.; three sisters, Janet Wagner and her husband, Larry, Naomi Guth, and Faith Hreno and her husband, John; and many nieces and nephews.
The family wants to thank Dr. George Morrissette and his associates, Carmen and Connie for caring for Marty since 1982; everyone associated with Androscoggin Hospice, especially Betty, Deborah, Edie, Lissa, Kevin, Bob, and Sandy, who cared for Marty the last 17 months, and Dr. Margaret Matthews and Sandy.