« Obituaries | Col. Warren Edward Cerrone
Col. Warren Edward Cerrone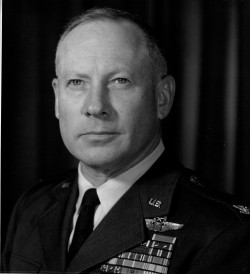 Date of Death: December 7, 2015
Date of Birth: October 5, 1921
Biography:
Col. Warren Edward Cerrone USAF (RET) - Topsham

TOPSHAM - Col. Warren Edward Cerrone, former Air Force officer in World War II and the Korea War and sales and marketing executive, passed away December 7th 2015 in Topsham, Maine at the age of 94.
Warren Edward Cerrone was born on October 5, 1921 in New York City, the son of Edward Joseph and Cecelia (Gardner) Cerrone.
Raised in New Rochelle, New York, Warren has one sister, Dorothy Cerrone Fahey .
Warren was commissioned as a Second lieutenant in the Air Corps Reserve, United States Army, in 1942 and advanced through grades to Colonel in the United States Air Force in 1967, retiring in 1971. Assigned to the 8th Air Force in England he was both pilot and commander of the B-17 flying fortress squadron and flew 39 combat missions in Europe including daylight bombing runs on Berlin. In 1951, he graduated from Iona College, New York with a Bachelor of Science degree and earned a Master of Business Administration from George Washington University in 1958. From 1961 to 1964 he was the Deputy Assistant Chief of staff in the 4th Allied Tactical Air Force, North Atlantic Treaty Organization. From 1964 to 1968 Warren distinguished himself as a professor of Aerospace studies at the University of Detroit. From 1968 to 1970 he worked in the Plans and Programming office of the Air War College at Maxwell AFB Alabama. From 1971-1981, he went on to distinguish himself at the University of Detroit in a variety of positions ultimately becoming the Vice President of Operations. Upon moving to Fairfield, Connecticut, he became the Sales and Marketing Manager of Openings, Inc. and retired thereafter when his wife became ill.
During his distinguished military career he was decorated with the Legion of Merit with oak leaf cluster, Distinguished Flying Cross with 2 oak leaf clusters, Air medal with 6 oak leaf clusters; Croix de Guerre with silver star (France). He was a member of the Air Force Association, Air Force History Foundation, Order of Daedalians (life) and the Engineering Society of Detroit. Later he became the President of the Lions Club of Falmouth, Maine.

Not only did he have an exemplary career but was married to Barbara Jane Bishop on September 21, 1946. They later had two children, Deborah Jane (Levins) and Lesley Ann (McLennan).

On July 28, 1990, Warren married Julie Dalrymple Waller and resided in Weston, Connecticut as well as spending summers in Georgetown, Maine. They later moved to Maine fulltime residing in multiple locations including Falmouth, Topsham, and Arrowsic.

Warren is predeceased by his parents, Edward Joseph and Cecelia (Gardner) Cerrone as well as his first wife Barbara Bishop Cerrone, and daughter Deborah Cerrone Levins.

He is survived by: his wife, Julie Dalrymple Waller Cerrone formerly of Newton Massachusetts and now of Topsham, Maine; sister, Dorothy Cerrone Fahey and her daughters, Patty Fahey Parilla, and Joannie Fahey Quintus; daughter by his first marriage, Lesley Cerrone McLennan and husband John C. McLennan IV of Montgomery, Alabama; two grandchildren John C. McLennan V and wife Melanie (Sumner) McLennan, and Carrie Wagner Rauch and husband Gregory Joseph Rauch; two great grandchildren John Creech McLennan VI and Gregory Cerrone Rauch; stepdaughter Susan Waller and husband Ronald A. Leax; stepson David J. Waller, Jr. and friend Katherine Mullen; three step grandchildren Matthew P. Waller, Laura C. Waller, and Andrew J. Waller; and other relatives and friends.

A memorial service will be held in Georgetown this summer.