« Obituaries | Marilyn Clark Douglass Colson
Marilyn Clark Douglass Colson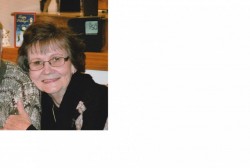 Date of Death: September 5, 2015
Date of Birth: January 12, 1949
Biography:
 Marilyn Clark Douglass Colson, 66, of Augusta, died on September 5th, 2015 at Augusta Rehabilitation.
She was born on January 12th, 1949 in Gardiner, the daughter of Daniel and Marjorie (Church) Clark.
Marilyn was educated in Whitefield Schools. She attended Erskine Academy in S. China and received her G.E.D. in Ocala FL. She graduated from beautician school in 1980 and worked for a number of salons in Augusta area before going out on her own. In 2000 she graduated from C.N.A. school and worked for Glenridge nursing home in Augusta before retiring in 2003 because of health reasons. She loved her children and grandchildren  very much. She liked to garden and at one time enjoyed a great Bingo game. Marilyn really enjoyed her computer. Ordering items on-line was her favorite but not for hubby.
She was a member of the Fraternal Order of the Eagles Club and also Elks Club.
Marilyn is survived by her beloved husband Carleton 'Spike' Colson; children Diane Douglass Tjelmeland and boyfriend Jay Galusha of S. China, Daniel Douglass of Miami,FL, Debra Douglass Walker of Windsor, brother David Clark and wife Sharon of Coopers Mills; nieces Terri Belanger of Windsor, Jackie Cartlidge of Whitefield; grandchildren Cherise Walker, Sierra Tjelmeland, and Savannah Tjelmeland; and sister-in-law Dale Clark. She was predeceased by her parents; William E. Douglass who was the father of her children.
Family and friends are invited to a Celebration of Life, Diane Tjelmeland's home, 61 Sunrise Dr., S. China, ME. from 1 PM to 3 PM. In lieu of flowers donations may be made to the American Cancer Society, 1 Bowdoin Mill Island, Topsham, ME 04086.