« Obituaries | Kenneth G. Cramp
Kenneth G. Cramp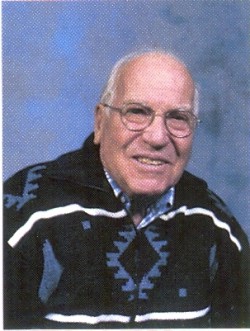 Date of Death: March 12, 2012
Date of Birth: November 10, 1917
Biography:
AUBURN – Kenneth G. Cramp, 94, died peacefully on March 12th, 2012 at his daughter's home in Auburn , surrounded by his loving family.
He was educated in Medway schools. On September 30th, 1939 he married the love of his life, Lena G. (Larlee) Cramp.
Ken worked at Samples Shipyard in Boothbay camouflaging war ships.
He then proudly served his country during World War II in the Pacific Theatre in Okinawa.  When he returned from the war  he went on to work at the Great Northern Paper Company. He was foreman of the wood room from 1946-1964 and was then foreman of the maintenance yard crew  from 1956-1981. He retired in 1984.
Ken was very active in his church. He was the last surviving founding/charter member of the Calvary Temple Assembly of God Church in E. Millinocket.  He served the church for many years  as an adult Sunday school teacher, treasurer,  and board  member.
He loved outdoor sports including camping, fishing, and hunting. Ken and Lena loved spending time at their camp at the lake. During the long days of the winter they could be found making homemade quilts for the kids and grandkids. . He loved gardening in the summer and picking 'wild' Maine strawberries, blueberries, and raspberries. He also loved spending time in the kitchen  making 'homemade' meals and desserts from scratch. He made an especially delicious carrot cake and biscuits.
He was a devoted father, husband, grandfather, and great-grandfather.
Ken is survived by his son James Cramp and his wife Carol of E. Millinocket; daughter Cheryl and her husband the Rev. Donald Cougle of Auburn; grandchildren Kevin Cramp and his wife Jill of Poland, Kathy Grant and husband Michael of E. Millinocket, Lori and husband Gary Baillargeon of Auburn, Timothy Cougle and his wife Kara of Auburn; great-grandchildren Jasmine, Kaylene, Spencer Cramp, Landon Cougle, Michael, Allison Noddin, Trevor, Sarah Baillargeon; sister Naomi Clark of Vassalboro. He was predeceased by his beloved wife Lena; brothers Wesley, Gerald; sisters Nina Luke, Iza Hale, Althea Quimby, Bernice Willette, Julia York, Tressa Wilson.
Family and friends are invited to visit at the Calvary Temple Assembly of God Church,  2 Orchard Street, East Millinocket on Friday, March 16th, from 5 PM to 6 PM with a service to immediately follow at 6 PM. Family and friends are also invited to a memorial service at First Assembly of God Church, Hogan Road, Lewiston, on Wednesday, March  21st, at 6 PM.  Burial will be in the spring at East Millinocket cemetery.