« Obituaries | Leo N. Dick
Leo N. Dick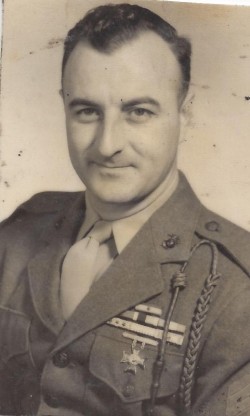 Date of Death: December 6, 2014
Date of Birth: October 28, 1929
Biography:
Leo N. Dick, 85, of Auburn, passed away peacefully on December 6th, 2014 at the Hospice House.
He was born on October 28th, 1929 the son of Narcisse and Celine Cormier.
Leo had a kind and gentle soul and was loved by all who came in contact with him.
Before his illness, Leo and his wife enjoyed traveling to several great places, trips to Casino's and weekly  Senior Bingo and playing cards.
Educated in Lewiston Schools and the age of 18 he enlisted in the U.S.M.C., June 15th, 1948.
He was in the George Co., 7th Marine Regiment, 1st Marine Division. Leo's company  was sent to the Korean War, September 15th, 1950 Inchon Landing. Leo was in the battle of the Changjin Reservoir known as the Chosen Reservoir.
In 1971 he married Lucille Cote Audet. After 24 years in the U.S.M.C. he retired as a M/Sgt. with several certificates for his great service.
After his retirement from the service, he and his wife made their home in Auburn.
Leo was also employed for 17 years as a supervisor for Etonic Shoe before their closing. He is also a lifetime member of the VFW post #1603 of Auburn and American Legion Post #31.
He will be sadly missed by his wife of 43 years Lucille Audet Dick; his children, daughter Diane of Lewiston, son Gary and his wife Terry of Maryland, Linda Audet Lizotte and husband Mark of Durham, and Daniel Audet and his significant other Sue of Wells; and former daughter in law Becky Lee and her husband Darrell; several grandchildren; many great-grandchildren; several nieces and nephews; sisters in law Carmen Teixeria of Lisbon, Gilberte Cote of Lewiston, and a brother in law, Bert Cote and his wife Madeline of Greene.
Leo was predeceased by his best friend of many years Noel Morrell; brother in law Roger Cote;  Leo's parents; and sisters Lillian Hebert and Noella Pelletier.
Leo's family would like to thank the Androscoggin Home Care & Hospice (Hospice House) for their wonderful care.
Family and friends are invited to a Celebration of Life with at Gracelawn Memorial Park, 980 Turner Street, on Thursday, Dec. 11, 2014 from 3pm to 6pm.  Private services will be held Friday for family only with military honors. In lieu of flowers donations may be made to the Hospice House, 236 Stetson Road, Auburn, ME 04210