« Obituaries | Lorraine Ruth Dyer
Lorraine Ruth Dyer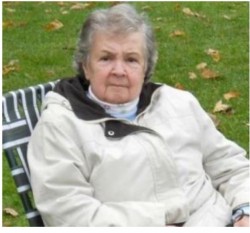 Date of Death: February 3, 2017
Date of Birth: May 12, 1928
Biography:
In loving memory of Lorraine Ruth Dyer
Lorraine passed away at 88 years of age quietly on February 3, 2017 at her home surrounded by her son Scott, his wife Susan and faithful companion her dog- Zeek ; with whom she resided with for the past 6 years. Lorraine finally got to rest and allowed others to support and care for her 24/7 which was a hard undertaking for such a giving person. Lorraine's requests were all out of love – Scott and Sue tried so hard to give her the best possible by reaching out to her family – making them aware of her needs and wants – yet their response was "put her in a home" - this broke her heart. Lorraine was cared for by Beacon Hospice – who we would like to thank for the compassion and excellent care provided to Lorraine in her last days.
Lorraine was the daughter of William Carter of Hallowell Maine and Florence (Champion) Nielson of Kezar Falls Maine. Lorraine was born in Kezar Falls Maine on May 12, 1928.
Predeceased by:
William Carter – Father, Florence Nielson – Mother, Billy Carter – Brother, Rosalie Larrabee – Sister, Helena Carter – Sister, Richard Hansen – Husband, Joseph Mannette – Husband, Al Dyer – Husband, and Cheryl Hansen – Daughter
Children:
Richard Hansen, Ronald Hansen, Scott Mannette and Carey Mannette and many grandchildren
Lorraine enjoyed caring for her family, giving of her time and friendship. Her gentle spirit warmed so many hearts. Lorraine lite up the "Village Cafe" - with her warmth for so many years of service as a waitress.
Lorraine was a beautiful woman with a loving and generous heart. She was a devoted mother, wife, sister, aunt, nana and friend.
Lorraine's ultimate wish was for Peace and rest assured she will finally find her Peace in heaven.
Service will be determined at a later date.