« Obituaries | Ronald Stone Everett
Ronald Stone Everett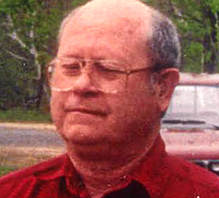 Date of Death: June 21, 2015
Date of Birth: April 8, 1933
Biography:
OXFORD — Ronald Stone Everett, a lifelong resident of Norway, died Sunday, June 21. He died peacefully in his home in Oxford with his wife and daughter.
He was born on April 8, 1933, to Gladys Stone Everett and Philip Marston Everett. Ronald was a proud graduate of Norway High School, Class of 1951.
He was a hardworking, scrupulously honest man of great integrity. He worked as a scaler in the Northern Maine Woods after high school, developing and harvesting his own wood lot over his lifetime. After serving in the U.S. Coast Guard, Ronald graduated from the University of Massachusetts Stockbridge School of Culinary Arts. He was a chef at many inns and restaurants throughout New England. Ronald recently retired as the owner and creator of Brookside Management, which provided food services for many children's summer camps throughout Maine. He met his wife, Jane Blanchard, at The Inn in Biddeford Pool, and they were married in Newton, Mass., in 1967.
Ronald had a love of antiques and was a dealer in the 1960s and 1970s.
With diligence and dedication of more than 25 years, Ronald was the genealogist of the Pierre Evard line of decedents from the American Revolutionary times and forward.
Ronald leaves behind his dedicated and loving wife of 47 years, Jane. He often proudly remarked his best accomplishment was raising his two children, instilling them with his integrity, honesty and independence. He leaves behind his devoted son, Jason P. Everett of Anchorage, Alaska; his devoted daughter, Susan H. Everett and her partner, Nathan Ryan, of Maynard, Mass.; his grandson, William Everett Ryan, the light of his life; and brother-in-law, Hartwell Blanchard of Kennebunkport.
Ronald was passionate about protecting nature and wildlife and rescued many animals in his life. He leaves behind his beloved rescued greyhound, Jack.
The family wishes to acknowledge the excellent care offered by Dr. Richard Kappelmann and Dr. Dervilla McCann. To his Androscoggin Home Hospice nurses, the family expresses heartfelt admiration and thanks for easing his last month of life.
At Ronald's request, there will be no visiting hours or funeral. Donations in his memory may be sent to Norway Historical Society or Norway Responsible Pet Care of South Paris.