« Obituaries | William "Bill" Ferland
William "Bill" Ferland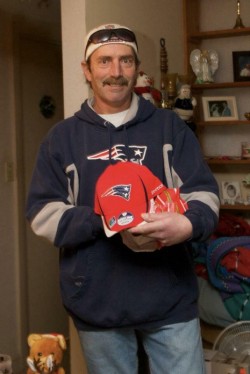 Date of Death: November 22, 2017
Date of Birth: September 30, 1961
Biography:
William "Bill" Brian Ferland, age 56, of Lewiston passed away on November 22, 2017 at Hospice House in Auburn.  Bill was born September 30th, 1961 in Rumford, ME to Edward William and Beverly Janice (Bouford) Ferland. 
Bill attended Lewiston schools and obtained his GED. 
He worked as a finish carpenter for Bessey Construction, mostly in Nantucket, MA. 
He was a member of the Le Nationale and 20M Social Clubs in Lewiston.  Bill was a fan of the Patriots, Red Sox, Celtics, and Nascar, liked to do crosswords and Sudoku, and enjoyed watching Jeopardy, Wheel of Fortune, and the History Channel.  He was learning to play the guitar in the last few months of his life. 
He is predeceased by his parents and his nephew Michael Anthony Rivero of Acton, MA. 
 He is survived by his sister Karen Louise (Ferland) and her husband Martin Antonio (Tony) Rivero and their children Jeffrey Brian Ferland of San Francisco, CA and Jennifer Rose Rivero of Arlington, TX; his brother Robert Mark and his wife Jocelyn Anne (Beedy) Ferland of S. Casco, ME and their children Benjamin Taylor Ferland of NJ, Rachel Mary (Ferland) and husband Kyle Lucier of HI, and Katherine "Kate" Brenna Ferland of HI; and sister Lynda Jane (Ferland) Nadeau Morin and husband Charles Morin and their children Ashley Ryanne (Nadeau) and husband Paul Cheriyan of MA, Renaud M Nadeau of FL, Emily (Morin) and husband Eben Bouchard and their daughter Zoe of Crested Butte, CO, and Colby Morin of VT. 
A memorial service will be planned for the spring; those who want to be notified may email karenrivero@hotmail.com.