« Obituaries | Marcelle Grenier
Marcelle Grenier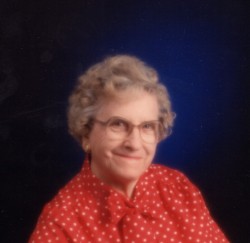 Date of Death: March 21, 2016
Date of Birth: January 8, 1915
Biography:
Auburn – Marcelle Grenier, 101, of Lewiston passed away on Monday, March
21, 2016 at the Hospice House in Auburn.
She was born in Lewiston on January 8, 1915, the daughter of Francois Lavertu and Maria Bourque.  She graduated from Lewiston High School and attended Bliss College. She was married to Leopold Grenier, who passed away in 1962. Before her retirement, she worked in her husband's silversmith business, St. Mary's Hospital and Montello Manor.  She raised four foster children.
Marcelle was a member of Prince of Peace Parish, Lewiston Senior Citizens, and spent many hours volunteering at CMMC. She enjoyed knitting, oil painting and working at the polls on election days.

She is survived by her sister Simone Lemay, several nieces and nephews, as well as her foster children Lorraine, Michael and Alex.
Marcelle was predeceased by a brother Laurent Lavertu, sisters Gabrielle Parent and Pauline Dumont and a foster daughter Isabelle Doyon.

Her family wishes to thank the staff at Russell Park and Hospice House for their wonderful care.

Services will be held Tuesday, March 29, at 10 a.m., at Holy Family church.  Donations may be made in her memory to Androscoggin Home Care & Hospice, Hospice House Fund, 15 Strawberry Avenue, Lewiston, ME 04240. Arrangements are under the care of Funeral Alternatives, 25 Tampa St. Lewiston