« Obituaries | Shirley V. Griffin
Shirley V. Griffin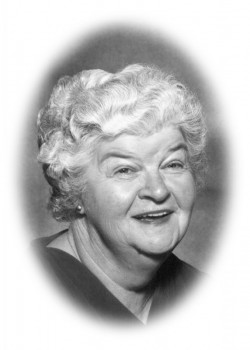 Date of Death: December 15, 2010
Date of Birth: May 26, 1921
Biography:
Falmouth-Shirley V. Griffin, 89 of Falmouth passed away peacefully on December 15, 2010 at Maine Medical Center, Portland.  
She was born in Portland, Maine on May 26, 1921 to Cora Ames Pennell and Theopholis Pennell.  Shirley was the last surviving child of seven children.  
Shirley graduated from South Portland High School and had lived in Falmouth for 69 years.  When her children were young she was involved in school activities, was the head of the Community Chest now known as the United Way for ten years, and was instrumental in helping to implement the hot lunch program at Graves School.  She was also on the Board of Falmouth Community Programs, was very involved in the activities of the Pleasant Hill area, where she and her family lived.  Shirley and area residents helped to raise funds to finish the second floor of the Pleasant Hill Fire Station which was used for community gatherings. 
Shirley worked for Carolyn Caterers for many years and later worked at the Boy Scouts of America until she retired. Upon retirement she traveled to Florida to spend time with her sister and other family members.  She was involved with the Blackstone Community where she lived for the past 27 years and also served on their Board.  She swam at the Riverton pool and could often be found with a good book or knitting.
Shirley's grandchildren Scott, Shawn and Katie were the light of her life.  She was always there to support Scott and Shawn with their scouting badges, awards, adventures and providing unconditional love.  She will be greatly missed.
She was predeceased by her husband William F.Griffin Sr., a daughter Marlene P. Griffin and her son-in-law Everett S. Macmaster. 
Shirley is survived by her daughter Shirley Ann Macmaster of Falmouth, a son William F. Griffin and his wife Kathy of North Carolina, grand children Scott Macmaster and his wife Catherine of Gray, Shawn Macmaster of Falmouth, Katie Griffin and a very special great grandchild, Colby, of North Carolina.
A graveside service will be held in the spring when her family will be together. 
In lieu of flowers memorial donations may be made to Boy Scouts of America, Pine Tree Council, 131 Johnson Road, Portland, ME 04102.