« Obituaries | Carroll A. Groves
Carroll A. Groves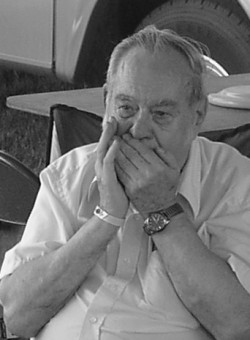 Date of Death: April 7, 2015
Date of Birth: April 17, 1928
Biography:
BRUNSWICK - Carroll Antis Groves, 86, passed away peacefully April 7, 2015 at the Mid Coast Hospital in Brunswick. Carroll was born April 17, 1928 in Brunswick, the son of Horace Groves and Ethel Dearborn, and step-son of Hermon "Zeke" Alexander.
During WWII, Carroll served in the U.S. Navy, being honorably discharged in January 1948. He was a member of the American Legion Post 202 in Topsham.
On July 3, 1951, Carroll married Alice E Prince in Brunswick. They celebrated their 60th Wedding Anniversary in 2011. Mrs. Groves passed away May 15, 2012.
He was a member of the East Brunswick Baptist Church.
For most of his adult life, Carroll worked as manager for the Elks Lodge in Brunswick, where he retired. Also in Brunswick, he worked part time for several years at Coleman's Poultry Hatchery and Coffin's Store, owned by his sister-in-law and her husband, Donald and Barbara Prince Coffin, and was a volunteer for the Topsham Fair.
Carroll was an avid ham radio operator for many years with the call letters WA1GPH. He also talked on a CB Radio for a short time using the handle Cactus Man. Most of all, Carroll enjoyed playing music. He was a self-taught musician, playing mostly the Accordion, Guitar and Harmonica. Often times, he would play the Harmonica while also playing the Accordion or Guitar. Carroll enjoyed going to bluegrass festivals, jamming with friends and entertaining at family gatherings. Over the years, he played in several bluegrass and traditional country bands. Prior to his declining health in 2012, Carroll stood in with the Back to Basics Bluegrass Band on many occasions. He continued his love of music right up until the time of his death. For the past 3 years, he entertained the folks at Dionne Commons in Brunswick where he had been a resident.
Carroll is predeceased by his parents, his step-father, his wife and a brother, Earl Groves.
He is survived by a son, Eugene "Geneo" Groves and his companion Gloria of Brunswick, a daughter Linda Groves Munsey and her husband Randy, of Bath; seven grandchildren, Jennifer Groves and her fiancé Bryan Garland of Topsham, Matthew Groves and his partner, Nichole, of Brunswick, Wayne Munsey and his wife, Beth, of Brunswick, Mark Munsey and his wife, Renee of Chelsea, Crystal Bouchard Ibiribigbe and her husband Mike of Bath, Heather Bouchard of Portland, Sonya Bouchard of Brunswick; fourteen great-grandchildren; a sister, Colleen Shaw of Brunswick; and four generations of nieces and nephews.
A service with Military Honors will be held Monday, May 4, 2015 at 2:00 o'clock in the Chapel at the Maine Veterans Memorial Cemetery, 163 Mt. Vernon Road, Augusta, Maine; officiated by his nephew, Gordon Field. Burial will be at the Maine Veterans Memorial Cemetery following the service.