« Obituaries | Helen L. Hildebrandt
Helen L. Hildebrandt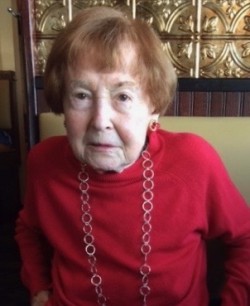 Date of Death: January 4, 2019
Date of Birth: November 6, 1926
Biography:
TOPSHAM - Helen Hildebrandt passed away on January 4, 2019 in Topsham Maine. Helen was the only child of Clara (Plettner) Motsinger and Forest Motsinger. She was born on November 6, 1926 in Cincinnati, Ohio. She graduated from Walnut Hills High School in 1944 and then attended the University of Cincinnati, where she earned her degree in Business Administration in 1949. While there she met Lt James Hildebrandt and they married the day after she graduated. She spent the next 28 years as an Air Force wife. Their first tour was in Alaska where they had their son Roger. Then they spent time at Purdue University and Annapolis Maryland before going to Dayton Ohio where their daughter Karen was born. Then on to Montgomery Alabama followed by the first tour in Washington DC. After a short time in Newport Rhode Island, they returned to DC for a few years. Then back to Dayton for her last tour in the Air Force. Helen led an active life as an Air Force wife. She was a long time Red Cross Volunteer and took advantage of other volunteer activities as they moved around the country. Helen supported Jim in his successful career as an Air Force Officer and most importantly, was the main force in raising a wonderful family.
After the Air Force Helen and Jim retired to Willoughby Lake in Westmore, Vermont where she entertained neighbors and traveled all over the world. In 1988 they moved to Maine.
Helen's true love was singing which she did through school and at all the bases where she was stationed with Jim. In Maine she joined First Parish Church and spent 25 years singing in that wonderful choir.
Helen is survived by daughter, Karen Mailey, son in-law Tom Mailey and their son Kyle of Gloucester Massachusetts; son, Roger and daughter in-law Heidi live in Mt Sterling Kentucky. Their son Scott and his wife Melanie live in Birmingham, Alabama.