« Obituaries | Marion E. Hyatt
Marion E. Hyatt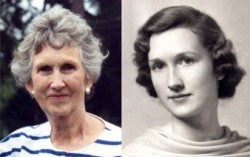 Date of Death: January 25, 2016
Date of Birth: November 3, 1917
Biography:
BATH - Marion Elizabeth (Schwenk) Hyatt long-time resident of Kingston, NY passed away January 25, 2016 at the age of 98 at Hill House Assisted Living in Bath, Maine with her niece Catherine Schwenk by her side.
Marion was born in Kingman, Kansas on November 3rd, 1917. At the age of 3 she returned with her parents Mabel (Lockwood) and Herman C. Schwenk to Kingston, NY where she continued to live until 2013. Marion's family owned Schwenk's Bakery, started by her paternal grandparents in 1890, the bakery was in business for nearly 100 years. Marion graduated from Kingston High School, followed by the New Paltz State Teachers College where she received both a Bachelor's Degree in teaching and a Masters degree in education. Marion's first teaching job was in Holtsville on Long Island, later Pleasant Valley, and then a long career teaching in the Kingston City Consolidated Schools. She served on the teaching staff of Number 4, John F. Kennedy and Harry L. Edson Schools. She spent most of her teaching career teaching 4th grade. She retired from the Kingston School District in 1980.
In 1986 she married Donald Hyatt, a retiree from the Kingston Freeman Newspaper. They spent over 20 years in wedded bliss very much enjoying their respective families and friends. During her long life Marion was a proud member of the Daughters of the American Revolution through her ancestor, Col. Johannes Schneider who is interred in Kingston's Old Dutch Church Cemetery.
Marion served on the Board of Managers of the Hudson Valley Senior Residence and was a lifelong member of Kingston's Trinity Evangelical Lutheran Church. Marion loved the family home where she resided on Shufeldt St. which was built by her parents in 1925. She enjoyed traveling and spending time with her friends, in particular the members of the "birthday club". She greatly enjoyed sitting on her front porch admiring the beauty of the trees, clouds and all of nature. She enjoyed her life and was well known for her dry sense of humor. In her retirement years, Marion could be heard playing the piano. Visits from her brother, Herm often included him singing with Marion playing piano, this was something that brought the two siblings great joy. Marion, a fiercely independent woman, above all else wanted to avoid being a burden to anyone. With this in mind, she was a dedicated saver, a lesson she credited to her father.
Marion was predeceased by her husband, Donald Hyatt, her parents, her two siblings, Alma M. Salmon and Herman C. Schwenk Jr., her eldest niece Pamala J (Salmon) Budion who gave her the nickname "Mimi", and her helpful stepson, David Hyatt. Marion is survived by Oliver N. Salmon Jr, Douglas R. Salmon, Julianne E. (Salmon) Baltar, Catherine E. Schwenk, John F. Schwenk; first cousins: Virginia (Schwenk) Lancer, of Kingston and Sister Eileen Schwenk of the Maryknoll Sisters; Stepdaughter Jane (Hyatt) Rifenbary and two stepgrandsons, Mark and Jay Rifenbary; many great and great great nephews and nieces, dear friends, former students and a number of compassionate care givers.
In her final years Marion was aided by her guardians Catherine E. Schwenk and Julianne E. Baltar of Freeport, ME and Dillingham, AK respectively.
She will be sorely missed.
A memorial will be held in Kingston, NY later this spring. Marion's ashes will be interred at the Herman C. Schwenk family plot in Montrepose cemetery.
Those wanting to honor Marion may make a donation in her name to Trinity Evangelical Lutheran Church, 72 Spring Street, Kingston, NY 12401, or the charity of your choice.