« Obituaries | Victor Skorapa Jr M.D.
Victor Skorapa Jr M.D.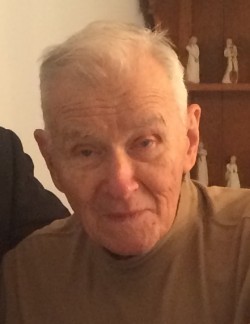 Date of Death: July 16, 2018
Date of Birth: September 6, 1923
Biography:
BRUNSWICK - Victor Skorapa Jr., M.D., died recently in Brunswick, Maine. He was born in Richmond,Virginia, to Victor Skorapa and Bozena Starek Skorapa in 1923. Victor graduated from Richmond College and attended the United States Merchant Marine Academy-Kings Point. He served as a second mate on Liberty and Victory Ships in the Pacific and Atlantic Theaters.
Following WWII, Victor attended medical school at the Medical College of Virginia and was board certified as a radiologist. He subsequently served in the US Army during the Korean Conflict, at Ernest Harmon Air Force Base in Stephenville, Newfoundland, as a radiologist.
After leaving the army, Dr. Skorapa worked for decades as a radiologist at the Veteran's Health Center in Atlanta, Georgia, and then Togus in Augusta, Maine.
He met his wife, Dr. Mary Zumbrunnen Skorapa, also a student at the Medical College of Virginia, over an autopsy. They were married 46 years. He was father to three children and grandparent to six grandchildren.
Victor was passionately concerned with social justice and conserving a healthy environment for future generations. He founded the Maine Chapter of Physicians for Social Responsibility and was a proud member of the Veterans for Peace.
A gathering of his friends and family will be held at the MidCoast Senior Center in Brunswick on Saturday, July 28, 2018 at 11:00 AM.
Tributes in his memory may be given with donations to the Bulletin of the Atomic Scientists - PO Box 15461, Chicago, IL 60615-2598, MidCoast Hunger Prevention Program (MCHPP) - 12 Tenney Way; Brunswick, ME 04011, or a charity of one's choosing.