« Obituaries | Doria Almida Faucher Lambert
Doria Almida Faucher Lambert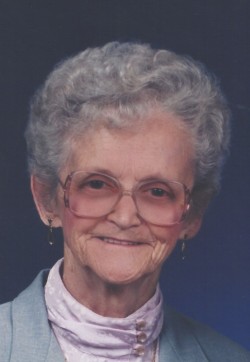 Date of Death: August 13, 2012
Date of Birth: August 13, 1921
Biography:
AUBURN-Doria Almida Faucher Lambert, of Lewiston, left us from the Hospice House on August 13th, 2012 to celebrate her 91st birthday with the Lord.
She was born on August 13th, 1921 in Lewiston to parents Raoul F., and Maria (Turcotte) Faucher. Doria was married to Gerard Ovila Lambert on May 22nd, 1943. They were married for 65 years.
Doria enjoyed sewing, crafts, crocheting, baking, painting, artwork, gardening, camping and spending time with family.
She worked on the farm, at Knapp Shoes, Bates College Catering, Connies Catering, and she was a homemaker.
Doria was predeceased by her husband, Gerard; sisters Lucienne and husband Jean Boutin, and Antonia and husband Robert Dion.
She is survived by her sons, Daniel and wife Salome Lambert from Conyers GA, Paul Lambert from Lewiston and Lynne Burgess from Lisbon Falls, and Ronald Lambert from Greene; daughters Ann and husband Norm Foss from Farmington, Diane and husband Arthur Morton from Greene; sister-in-laws Gloria Dennison and husband Edward, Salange Lambert and Constance Lambert; fifteen grandchildren, and many great-grandchildren, nieces, and nephews.
A memorial service will be held at the East Auburn Baptist Church, 560 Park Ave, Auburn ME, on Friday August 17th, 2012, at 2pm. In lieu of flowers donations may be made in Doria's memory to the American Diabetes Association P.O. Box 11454 Alexandria, VA 22312 or the Cystic Fibrosis Foundation 6931 Arlington Road, 2nd floor Bethesda, Maryland 20814.
Condolences may be expressed at Funeralalternatives.net