« Obituaries | Robert Ellis Lee
Robert Ellis Lee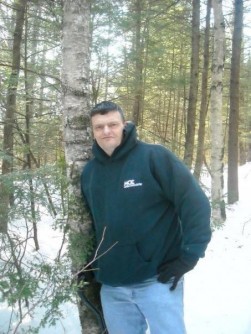 Date of Death: August 31, 2013
Date of Birth: May 2, 1953
Biography:
AUBURN – Robert Ellis Lee, a Viet Nam War veteran and Chief Creator of Nicknames, went home to be with Jesus on Saturday, August 31, surrounded by his family after suffering from progressive liver disease for the past five years.  He was 60 years old.
Bob was born on May 2, 1953 to Louise and Herbert Lee SR.  He was the middle of three sons.  He was pre-deceased by his father and his older brother Herbert "JR" Lee, and is survived by his mother and younger brother, Wade "Sam Spud" Lee and his baby sister, Dorothy "Dori" (Haas) Curtis.
Bob met his wife, Linda "Liebchen" (Jipson) Lee, when she was only 7 years old.  He was 14 years old and friends with her brothers.  He seemed always to be around, and by the time Linda was 15 years old, they were married and expecting their first child.
This December they would have celebrated their 38th wedding anniversary.  They raised three children together.  Melissa "Maroubi" Lee lives in Auburn next door to her parents and recalls many late night screen door greetings as she arrived home.  Her father would come to the door just to ask her how her day was, make sure she'd had dinner, and to wish her goodnight.  Adam "Bud" Lee lives in New Gloucester with his wife, Sarah Lee, and their four children: Samuel, Elijah, Abigail, and Grace.  Bob imparted a great many life lessons to Adam.  Many that he has already begun teaching to his own children, such as learning how to fish, hunt, "junk", garden, and the value of hard work.  Erin "Peaches" (Lee) Larochelle lives in Auburn with her husband, Chris Larochelle, and their two daughters, Gwen and Amelia.  As the baby of the family, Erin was able to reap the benefits of a Dad who had been broken in by two older siblings and who was now properly mellowed out.  As the saying goes, Bob was wrapped around that baby girl's fingers.
Bob is described in many family stories as an entrepreneur even from a young age.  He and his brothers would work shining shoes, shoveling snow, and any number of other odd jobs in order to make money.  Most often he would choose to reward himself by using his earnings to acquire a mountain of candy.
This entrepreneurial spirit remained in his adult years, and he worked several jobs, in order to support his family.  One of his favorite jobs was to go "junkin".  This was a family affair and would often include the kids excitedly rummaging through curbside "junk piles" for treasure.  The living room would often be filled with 10 gallon pails full of sorted metal - aluminum, iron, stainless, and copper - and the children learned how to use utility knives and magnets at early ages in order to tell metals apart.  Recycling was the family business.
Bob will be remembered by his family as a loving husband and father who worked hard to provide for his family.  Perhaps most of all he will be remembered for his sense of humor and loving ways.  Life was not always kind to Bob, and he had a great many struggles, but he was always kind and loving to those around him.  As family gathered to visit in his last earthly days, it was soon discovered that Bob rarely called anyone by their given names.  Everyone had a nickname.  If a real name was thrown out in conversation, it often took the nickname to clarify about whom we were speaking.  "Bones", "Pickles", "Bert", "Boo Boo", "Bud", and "Tommyhaw" are just some of the names given to friends and family he held dear.  Also during those times of sharing a common accolade was shared over and over - Bob was known as a generous man.  He truly did once give away the shirt off his back.  He also gave away countless hugs and "I love you's".  Whether family or friend, you didn't leave his company without a hug.  This is one of the greatest gifts his children will say he gave them - that he did not withhold affection.  He was a man who had great love for his family, and he counted his wife and children as his own greatest blessings, and he never lost an opportunity to tell them so.  He will be greatly missed.
Memorial services will be held at the Bible Believing Baptist Church in Gray, Maine on Thursday, September 5th.  Visitation will be at 10a and the celebration of his life will be at 11a.  A military burial will take place at the Maine Veterans' Memorial Cemetery at a date still to be determined.
In lieu of flowers, donations may be made to Saint Jude's Hospital via www.stjude.org.  This was an organization near and dear to Bob's heart.