« Obituaries | Ernest Lawry Manderson
Ernest Lawry Manderson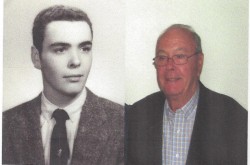 Date of Death: August 19, 2017
Date of Birth: July 28, 1937
Biography:
GORHAM -- Ernest Lawry Manderson, 80, died peacefully on August 19, 2017, at Maine Medical Center. He was born to Ernest V. and Jacquelyn K. (Graves) Manderson on July 28, 1937 in Portland, where he grew up with his two sisters. He attended Portland grade schools and graduated from Cheverus High School in 1955. Following high school, he enlisted and served in the U.S. Marine Corps as a Field Radio Operator for three years. He graduated from the University of Maine in Orono in 1962 with a Bachelor's degree and in 1964 with a Master's degree in English and was elected to Phi Beta Kappa. Ernest taught English for four years at Hanover High School in New Hampshire and then for four years at Gorham High School in Maine. He left teaching to attend the University of Maine School of Law and graduated in 1976. He practiced law in Westbrook and Gorham until he retired in 2015 at the age of 78.
Ernest married Helen Nielsen in June 1963. They had two children, Christine and Thomas. Ernest enjoyed hiking with his children, gardening and planting trees, carpentry, woodworking, bird watching, and reading, especially non-fiction. He loved spending time with his children and grandchildren and attended many school concerts and sports events. He also loved to see his extended family, and with his wife, hosted a large party for family and friends every Christmas for many years. Ernest also enjoyed to travel and took trips to Alaska, Ireland, and the Southwest. He particularly enjoyed his annual summer trips to Canada. Ernest was a lifelong Democrat and community service was an important part of his life. He was a founding member of the Gorham Food Pantry and a board member at the Baxter Memorial Library, Gorham Senior Housing, and the Westbrook Community Hospital. Ernest was a caring, generous man who always had a positive outlook and kind words.
Ernest is survived by his wife of 54 years, Helen; their two children, Christine and her husband Brian Peters of Yarmouth, and Thomas of Gorham. He is also survived by his four grandchildren, Hannah and Ethan Peters and Neil and Andrew Manderson; his two sisters, Bernice (Bunny) and her husband Charlie Stevens, and Jean Keefe; his sister-in-law Martha and her husband Louis Maguire; and many nieces and nephews.
We appreciate the care he received at the Maine Medical Center from Drs. Bullis, Chase, and Crispo and the staff of P3.
A private burial service will be held at Calvary Cemetery. A Celebration of Life will be held at Spire 29, 29 School Street, Gorham on Sunday, September 10 from 2 - 4 pm.
Memorial contributions in honor of Ernest may be made to Preble Street (38 Preble Street
Portland, ME 04101) or Good Shepherd Food Bank (3121 Hotel Road, P.O. Box 1807
Auburn, ME 04211).