« Obituaries | Robert R. McGann
Robert R. McGann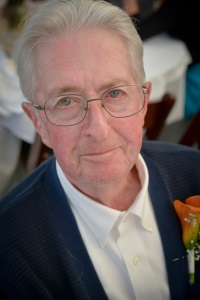 Date of Death: August 6, 2015
Date of Birth: May 24, 1932
Biography:
FREEPORT – Robert McGann, 83, of Freeport, died at his home on August 6th, 2015.
He was born in Portland, Maine on May 24th, 1932, the son of Harry and Annie McGann.
The family moved to Buxton on a family farm where he milked cows, cut firewood, and tended to the gardens. He attended Duck Pond Grammar School which included grades 1-8 all in one room. Because of his academic abilities he was awarded the first ever scholarship from Buxton to attend Deering High School. He graduated in the class of 1950. On New Year's Eve, 1950, he married his high school sweetheart, Mildred Jenkins. The two were married for 62 years until her passing in September 2012.
He first worked at Oakhurst Dairy, quickly becoming a key man at all major processing functions. He was in the Army Reserves and was drafted in 1954. He worked in Walter Reed Army Medical Center and was stationed for one year at the 98th General Hospital in Germany. He served in the Medical Corp. as an orthopedic specialist.
After the Military he joined Graybar Electric Co. He served as a salesman for electrical and telecommunications. His primary focus was working with the Independent Telephone companies throughout most of Maine. He later became Branch Manager of the Portland location. He retired after 32 years with the company.
In his retirement he remained exceptionally active. He played on his farm with his brother, Donald, who lived next door. They raised beef cattle, hayed the fields, cut firewood, and had a small sawmill.
He was most known for his many talents and the charitable work that he did for so many. He helped family, friends, and neighbors with projects big and small from electrical work to plumbing, construction, building fences, to whatever the need might be. He frequently sensed a need and acted on it without anyone ever having to ask for his help. His knowledge has benefitted so many and he was always there with a smile, a kind word, encouragement, support and wisdom that is very rare. He never asked for nor would he ever accept any compensation.
He was predeceased by his wife of 62 years, Mildred Jenkins McGann, his parents, and his four siblings, Viola Place, Donald McGann, Sylvia McMahon, and Geneva Sargent.
He is survived by his son, Steven McGann of Freeport; daughters, Linda Kozel of Yarmouth, and Patricia Gould of Georgia; grandchildren, Cole England, Erica England, Jessica Westhaver, and Nicole Beaumont; great grandchildren, Isabel Lemieux, Ava Gosselin, Harper Westhaver, and many nieces and nephews.
There will be a service on Tuesday, August 18th, 2015 at 11:00am at the Cousins Island Chapel in Yarmouth, followed immediately by a gathering at the Community Center next door with refreshments.
In lieu of flowers donations may be made in Robert's name to the Coastal Human Society, 190 Pleasant Street, Brunswick, Maine 04011.