« Obituaries | Richard A. Messer Sr.
Richard A. Messer Sr.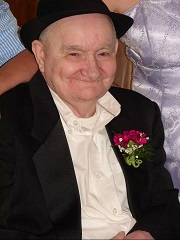 Date of Death: October 2, 2015
Date of Birth: August 26, 1934
Biography:
 Richard A. Messer Sr., 81, of Augusta, passed away peacefully at Augusta Rehabilitation on October 2,2015 where he had been a resident for 8 years.
He was born in Augusta on August 26th, 1934 the son of Charles and Alice (Humphrey) Messer whom he was the only child.
Richard enjoyed spending time with his family, especially his children, grandchildren, and great-grandchildren, and being a mechanic.
He previously worked for Lipman, Hallowell Shoe Factory, Williams Construction, and then started his own business in Bowdoinham, Messer's Junkyard.
He is survived by sons Richard Messer Jr., Richie Messer, and William Messer; daughters Grace Sidelinger, Bonnie Therrien, Tina Pelletier, Laurie Racine, Bridget Caron, Gail Messer, and Lydia Williams; step sisters June McGray, May Caret, Caroline Parker, Dottie Gilbert; half brothers Bobby Davis and Charles Stratton; stepchildren Patrick, Pauline, Lynn Alexander; several grandchildren, great-grandchildren; and several nieces and nephews. He was predeceased by 3 wives Pauline Blair, Dorothy Waterhouse, and Doris Messer; son Bidwood Messer; daughters Sandra Shockley, Kim Messer, Theresa Messer, Sheryl Messer; half sister Joyce Ashey; and stepfather Ken Davis.
Family and friends are invited to a memorial service on Tuesday, October 13th, at 2:30 PM at First United Pentecostal Church, 15 Wilson Street, Augusta. Burial will be held at Mt. Hope Cemetery, S. Gardiner, on October 14th at 1 PM.