« Obituaries | Esther D. O'Brien
Esther D. O'Brien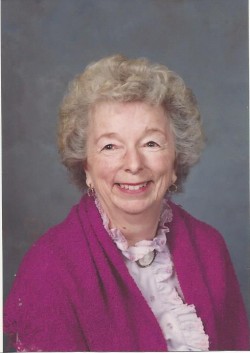 Date of Death: July 5, 2015
Date of Birth: May 22, 1918
Biography:
FREEPORT – Esther Davis O'Brien, a long time teacher, died on July 5, 2015 at Hawthorne House in Freeport. She was born May 22, 1918, the daughter of Fred and Edith Davis of Freeport. She attended Freeport schools, graduating from Freeport High School in 1935, and then graduating from Gorham Normal School in 1938.
She began her teaching career that fall in Freeport, starting what would become a long and very rewarding career. She later earned a Bachelor's Degree in Education from Gorham State Teacher's College in 1951; a Master's of Education from the University of Maine in Orono in 1962; and a Certificate of Advanced Studies in Elementary Education from Orono in 1971.
Over a period of years in Freeport, Gorham, and Falmouth she was an elementary school teacher and Principal who thoroughly and enthusiastically enjoyed her profession. She often said that children gave her much more than she gave them. Along with her elementary teaching, she also taught education courses for the University of Maine at Portland, Gorham, Auburn, Augusta, and Orono. She was a lifetime member of the National Education Association, the Maine Teacher's Association, the Maine Reading Association, and the New England Reading Association and their retired groups.

After her retirement from Falmouth a nature trail was built and named in her honor. When her career as a teacher ended she decided to devote her time to volunteer organizations. She joined the Southern Maine Agency on Aging and served on both the Advisory Council and the Board of Directors for many years.

She was past president of Freeport Community Services and Freeport Historical Society; she was a charter member in Casco Bay YMCA; and enjoyed membership in the Freeport Elders and the Casco Bay Divas, a Red Hat Club.

The South Freeport United Church of Christ was a very important part of her life ever since childhood. Over the years, she had served many roles in the Church, including Sunday School Teacher and Superintendent, Deacon, Delegate, and also Church Historian.

She was an enthusiastic member of the Freeport Lions Club and was very proud of the fact that she was their first woman President, and a Melvin Jones Fellow. It could truly be said that she enjoyed new experiences with her family and friends. One of her favorite expressions was "I am expanding my horizons."

The two most important things in her life were her family and her teaching. However, she had many interests – travel, photography, swimming, walking, poetry, history, the Royal Canadian Mounted Police Musical Ride, the Boston Red Sox (she waited 86 years for them to win the World Series), music of all kinds, especially the folk group "Schooner Fare," and good friends. With her love of the ocean and history she wrote "A Maritime History of Freeport."

She was predeceased by her husband George, who died in 1983, and by two sisters, Carlene (Davis) Coffin and her husband Ned, and Ethelyn (Davis) Sisk and her husband Felix; and also by two nephews, Fred Coffin and David Sisk.

She is survived by her two children, Mark O'Brien of Lisbon Falls, and Karen (O'Brien) Campisano and her husband Fred of Burlington, Wisconsin; four grandchildren, Jennifer (O'Brien) Edmondson and her husband Darrel of Searsport; Sean O'Brien and his wife Alyssa of Durham; Erin O'Brien and Tim Parent of Turner; Staff Sargent Krysta Strysko of Aurora, CO; two great-grandsons, Grady and Lincoln O'Brien; two great-granddaughters, Malley O'Brien and Eriulynn, the daughter of Erin and Tim. Also surviving her is a niece, Carol (Coffin) Fogg of Bangor, a nephew, Edward Coffin and his wife May of Augusta, and many cousins and great nieces and nephews.

A memorial service will be held at the South Freeport United Church of Christ on Saturday, July 11th at 11:00am.

In lieu of flowers donations may be made in Esther's name to Southern Maine Agency on Aging, 136 US Route 1, Scarborough, ME 04074, or to the South Freeport United Church of Christ, PO Box 146, South Freeport, ME 04078.