« Obituaries | Robert J. Rooney
Robert J. Rooney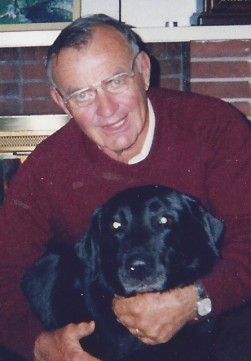 Date of Death: November 14, 2012
Date of Birth: May 3, 1930
Biography:
Robert J. Rooney, 82, of Readfield, Maine, passed away peacefully on Nov. 14th, 2012 at the Maine Veterans Home with his family by his side.
Bob was born in Holyoke, MA on May 3rd, 1930 to Parents Allen and Helen (Aspinall) Rooney. He attended Kent's Hill School, and the University of Maine at Orono, earning a bachelors Degree in business.
He served in the Navy, and is a Veteran of the Korean War. Bob owned and operated the Five Seasons Campground in Mt. Vernon, Me with his wife for many years. He also worked for the Maine DOT for 17 years.
Bob's passions included duck hunting, fishing, gardening, and enjoying the outdoors.
He was predeceased by his loving wife, Connie.
Bob is survived by his four children, Linda Rooney, Diane Garcell, Susan Bost, and Robert and his wife Tiffiny Rooney; seven grandchildren, Heather and Alex Best, Sabrina Bost, Matthew and Cory Garcell, and Matthew and Jennifer Rooney; and three great-grandchildren.
A committal service will be held in the chapel at the Maine Vet's Cemetery, 163 Mt. Vernon Rd., Augusta ME, at 2:00pm on Monday, November 19th, 2012. In lieu of flowers, donations may be made in Bob's memory to the Kennebec Valley Humane society, in honor of his love for animals.
Condolences may be expressed at funeralalternatives.net.