« Obituaries | John Ryan
John Ryan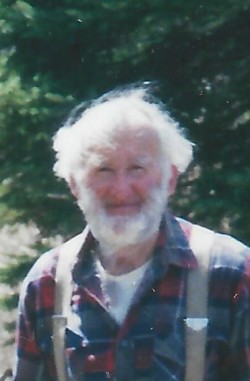 Date of Death: March 20, 2014
Date of Birth: April 30, 1928
Biography:
SABATTUS-John J. Ryan, 85 of Monmouth, Maine passed away on Mar. 20th, 2014 in Sabattus with his family by his side.
He was born in Dorchester, MA on Apr. 30th, 1928 to parents Gordon and Clara (Nickelson) Ryan.
John was a member of both the Portland and Kennebec Rocks and Minerals Club. He had also been a member of St. Francis Xavier Church, where he briefly taught Sunday school, for the past 60 years.
He was a naturalist, and enjoyed gardening, farming and living off the land. He also enjoyed woodworking, building things, panning for gold, collecting rocks and minerals, and being at the ocean. He also enjoyed reading, painting and music.
John worked many years in orchards, working 35 at Chick Orchard, and 25 at Willow Pond. He spent his life on the ocean working as a lobsterman, seaweed harvester, and clam digger. He also worked in the forest.
He is predeceased by his wife of 35 yrs; Linda his parents; and his brother Charlie.
Surviving him are his 3 daughters Patricia Ryan, Theresa Tilley, and Sarah Ryan; his stepson Robert Johnson; 3 brothers Robert, Tom, and Richard; and 3 sisters Claire, Mariam, and Kathie. He also leaves behind 8 grandchildren, and 3 great grandchildren.
A memorial service will be held on Apr. 12at 11:00am at St. Francis Xavier Church, 20 Lake St, Winthrop, ME. Burial will be held privately at a later date. In lieu of flowers, donations may be made in John's memory to the Kennebec Rocks and Minerals Club c/o treasurer Ron LePage, 37 May St. Waterville, Me 04981