« Obituaries | Leroy H. Schaedler
Leroy H. Schaedler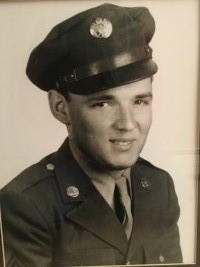 Date of Death: January 21, 2018
Date of Birth: April 5, 1924
Biography:
BRUNSWICK - Leroy H. Schaedler, 93, of Brunswick, passed away in the comfort of his home, surrounded by his family on January 21, 2018. Leroy was born in Glencoe, MO on April 5, 1924, a son of August and Caroline (John) Schaedler. Growing up, Leroy enjoyed working on the family farm and was an avid hunter. He graduated from Eureka High School where he had been a star baseball pitcher.

In 1943, Leroy enlisted in the US Army where he traveled through the states before being sent to England. In 1952 he married his wife Rita. Eventually living in Freeport and raising their five children. He became a cement finisher and belonged to the Bricklayer and Allied Craft Works until his passing.

Leroy and Rita spent many warm winters in Lakeland, Florida together before her death in 1989 where they got to watch baseball games and have their grandchildren visit. Leroy was a true fan of baseball. His knowledge of the game was astonishing and was truly amazing the storied he was able to share.

Leroy was predeceased by his wife Rita of 37 years, four sisters and a brother: Anne, Helen, Rose, Jeanne and Norbert.

Leroy is survived by his 5 children: Suzanne Dotts, Michael, John, Andrew and James as well as his 9 grandchildren: Casey, Drew, Amber, Kaitlyn, Nicholas, Easton, Clay, Sienna, Adalynn and Makenna and many beloved cousins, nieces and nephews.

A Memorial Service will be held on Saturday, February 3, 2018 at 10:30 a.m. at St. John the Baptist Church, 39 Pleasant St., Brunswick, ME.
In lieu of flowers memorial donations may be made in Leroy's memory to Mary Knoll Sisters, PO Box 317, Mary Knoll, NY 10545, or www.maryknollsisters.org.