« Obituaries | Howard Shepardson
Howard Shepardson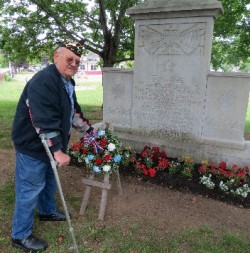 Date of Death: January 11, 2019
Date of Birth: December 28, 1939
Biography:
Lisbon Falls – Howard Shepardson, 79, of Lisbon Falls passed away at CMMC hospital on Friday, January 11, 2019. He was born on December 28, 1939, a son of Bernard Edwin Shepardson and Eleanor Draper in Foxborough, MA on December 28, 1939. He attended local schools before graduating and enlisting in the US Navy.
Howard served in the US Navy for 23 years, many of which he was a Flight Engineer amongst other various shore duties including recruiting. After his retirement from the Navy, Howard worked at Graziano's as a cook for 20 years before the restaurant closed.
Howard was a devoted member of the American Legion, always making sure that veteran's graves were marked with a flag and willing to help anyone in need. He was also involved in fund raising with the Slovak Club and enjoyed his membership where he loved to play horseshoes and darts with his friends. Howard also enjoyed playing golf.
Howard is survived by his children: Debra Conrad and husband James, Linda Shepardson, and James Shepardson and wife Connie as well as 7 grandchildren and 4 great grandchildren. Howard also leave his 3 sisters: Marilyn Smith, Nancy DeFlippo, Iris Scialdone and many nieces and nephews.
Howard was predeceased by his parents, his wife Monica Moore Shepardson in 2012 and a son Richard Shepardson in 1985.
A Funeral Mass will be Celebrated at Holy Trinity Catholic Church in Lisbon Falls On Friday, January 18, 2018 at 11 AM. A Burial will be held at Mt. Calvary Cemetery in the Spring. Services are under the care of Funeral Alternatives 25 Tampa St. Lewiston. www.funeralalternatives.net