« Obituaries | Georgia K. Sledge
Georgia K. Sledge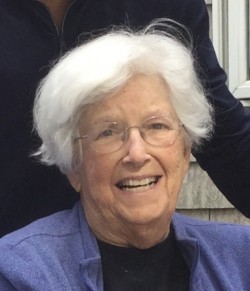 Date of Death: January 26, 2018
Date of Birth: June 14, 1935
Biography:
WESTPORT ISLAND, ME - Georgia Kurrus Sledge passed away peacefully in her home on January 26, 2018, surrounded by her children and her husband of over 60 years, Clement Blount Sledge, M.D. She was 82 years old.
Born on June 14, 1935 in St. Louis, Georgia graduated from the John Burroughs School in St. Louis and received her bachelor of arts degree from Goucher College in 1957. While home from college for the summer before her senior year, Georgia accepted a chance invitation to play tennis and met the love of her life, Clem, who was an intern at Barnes Hospital in St. Louis. After only five dates, Clem proposed, and they were married shortly thereafter.
The couple moved to Marblehead, Massachusetts in 1957 when Clem was stationed in the Navy in Charlestown. Georgia began teaching at the Tower School in Marblehead, where she spent the next four decades as a beloved sixth grade teacher, music teacher, drama director, and mentor to countless children. Georgia took great pride in her career and loved that eventually she found herself teaching the children of former pupils. She took time off to raise her four children, but returned to teaching at Tower as soon as she could, continuing until her retirement in 1996. Georgia's influence on her students was long lasting, and she instilled in them a life-long love of both reading and writing.
When Georgia and Clem retired, they moved to a quiet point on Westport Island, Maine, where they spent the summers kayaking and cruising on their boat with friends and family. In addition to knitting, needlepoint and sewing, she also took up quilting and gifted each of her twelve grandchildren a personalized "Nanny quilt."
Georgia will be remembered for her infinite love and boundless energy. She was one of the very first female Cub Scout leaders, a Girl Scout leader for over 30 years, a piano teacher, soccer coach, and Sunday School teacher. Each Christmas when her children were young, she would invite the neighborhood children to practice singing carols at her house, and they would then perform for their parents at her annual Christmas party, with Georgia accompanying on the piano.
Georgia had a way of making friends, young and old, into family. She was an amazing cook and an even better baker, graciously sharing recipes, including her original "Sledge Cookies," and teaching anyone interested how to bake bread. Her home, which always had her much loved golden retrievers milling about, was open to anyone and everyone, and many considered her a second mother.
In addition to her husband, Georgia is survived by her daughters Margaret (Mego) Sledge Tracy of Palo Alto, CA, and Claire Sledge Smith of Marblehead, MA, her sons John B. Sledge, M.D. of Lafayette, LA and Matthew C.B. Sledge of Boothbay Harbor, ME, her sons-in-law Edward D. Tracy and Christopher R. Smith, her daughters-in-law Isabella J.P. Sledge, M.D. and Jennifer Barry Sledge, and twelve grandchildren: Matthew, Kaitlyn, Kevin and Brian Tracy; Alexa and Jake Sledge; Margret and William Sledge; and Mollie, Reid, Elsa and Annie Smith.
There will be a celebration of life this coming summer. In lieu of flowers, memorial gifts may be made to Smile Train, an international children's charity providing cleft repair surgery, at www.smiletrain.org.