« Obituaries | Allan R. Watson
Allan R. Watson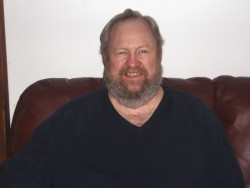 Date of Death: January 21, 2016
Date of Birth: February 10, 1944
Biography:
Allan R. Watson, 71, of Manchester died on January 21, 2016 from cancer, which he viewed as a life experience and not a struggle or battle he was in.  He was born in Biddeford, Maine on February 10, 1944, the son of the late Rodney and Irene (Simms) Watson. He was educated at Thornton Academy in Saco, Oklahoma State University (Bachelors), the University of Southern Maine (Masters)and earned his doctorate in Divinity from the American College of Metaphysical Theology.  He worked for 36 years with individuals who have special needs, with over 25 years as a special education teacher and retired after another 11 years as a therapeutic foster parent.  

Allan was an avid fan of New England sports, always cheering on his beloved Red Sox, Patriots, Bruins or Celtics. He was always known to spend hours on end involved in studying and working towards civil rights, human rights and equality. He was also a member of the Unitarian Universal Church in Augusta as well as a pastor for the Metropolitan Community Church in Portland & Augusta and at the Riverside Congregational Church in South Gardiner.

Allan is survived by his wife of 23 years, Jill Watson, his daughter Erica Watson of Lewiston, a sister Judy Richardson of Biddeford; a special friend, Frank Cantara of Biddeford, sister-in-law, LeAnn Wilcox of Gustavus, AK; brother-in-laws, Craig & Jana Ring of Ketchikan, AK and Kip & Heather Wilcox of Suquamish, WA; nieces, Liz & Jon Chenard, Arielle Richardson, Karen & Rob Heflin, all of Saco, Cassidy Briskar, Sarah & Ty Gass of Ketchikan, AK, Amanda Briskar of Juneau, AK and nephews Erik Sanborn of Portland, Charlie Ring, Bradley Ring & Cody Ring all of Ketchikan, AK.

Per Allan's wishes, no service will be held.  In Lieu of flowers memorial donation may be made in Allan's memory to Special Olympics Maine 125 John Roberts Rd, #5, South Portland, Me 04106