« Obituaries | Ronaldo J. Willette
Ronaldo J. Willette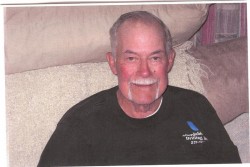 Date of Death: May 21, 2010
Date of Birth: April 8, 1939
Biography:
AUBURN – Ronaldo J. Willette, 71, of Bowdoin, died on May 21st, 2010 at the Hospice House in Auburn.
He was born in Fairfield on April 8th, 1939 the son of Romeo and Mary Ann (Dennis) Willette.
Ronaldo worked for many years as a professional truck driver at Augusta Tank & Fuel and he retired from Poland Spring.
He enjoyed NASCAR, tractor pulls, hanging out at Jamie's garage with buddies, and spending time with his family, especially his grandchildren.
He is survived by sons John Willette and wife Mary of Mt. Vernon, Jason Willette, Nicholas Willette of Biddeford; daughters Michelle Burtt and husband Darren of Augusta, Andrea Willette of Saco; brothers  Lucien Willette and wife Sherry of Utica, NY, Eugene Willette of Gorham, Linwood Willette of Gorham, Wayne Willette and wife Stephanie of Windham, Glenwood Willette and wife Linda of Waterboro; sisters Theresa Willette, Priscilla Hinckley and husband William of Gorham, Darlene Willette and husband Fred of Portland; 10 grandchildren; 2 great-grandchildren; and his buddy Jamie Bisson. He was predeceased by his father Romeo, mother Mary Ann, Helen whom he called "Ma"; brothers Roger and Ronald Willette.
Family and friends are invited to visit from 2 to 4 PM and 6 to 8 PM at Funeral Alternatives, 25 Tampa Street, Lewiston.