« Obituaries | Verian B. Wing
Verian B. Wing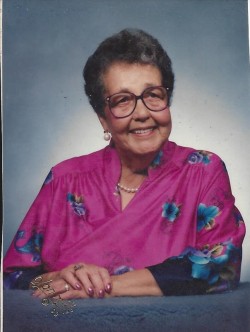 Date of Death: October 28, 2014
Date of Birth: February 10, 1923
Biography:
Lewiston- Verian Bertha Wing, 91, of Lewiston, passed away at her home on Tuesday, Oct. 28, 2014, with her family by her side.
She was born in Leeds, Me on Feb. 10, 1923, the daughter of Ethel M. Wing and Henry Kemp, When she was 2 years old, she moved to Freeport and grew up with her foster parents; Henry and Aster Mills. She graduated with the Class of 1943 and got married to Alexander G. Wing in 1943 then started her family.
Verian was predeceased in 1974 by her husband Alexander Sr., in 1990 by her son Alexander Jr., in 1997 by her daughter Hilda A. Wing, and in 2007 by her son Frederick.
She is survived by her daughter Linda Beaulieu and her husband Lionel Beaulieu of Lewiston, thre sons; Richard Patten and his wife Merlene Patten of Florida, William L. Wing and his companion Jane of Oxford, and David A, Wing of Auburn, sisters; Sarah Howe of Leeds, Pauline Burgess of Leeds, and Alberta Burnham and husband Gus of Monmouth as well as many grandchildren, great-grandchildren and grate-grate-grandchildren,all of whom she loved very much, and many nieces and nephews who will all miss her very much.
The family would like to thank the Androscoggin Home Care and Hospice group who took great care of Verian in her final days.
There will be a graveside service at 2pm on Saturday, Nov. 1 2014 at the Leeds Plains Cemetery in Leeds.